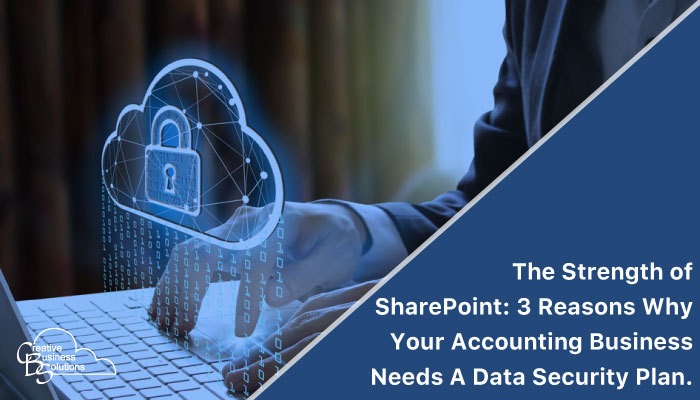 Data security is an essential topic in any business. With greater connectivity comes more cyber risks. No matter how big or small, every business should have a cyber security strategy in place, including network security and a data security plan. If you're an accounting professional, think of all the sensitive information you handle on a daily basis. It's crucial to your reputation and the well-being of your clients to keep this sensitive data protected and secure. As usual, Microsoft 365 for business has you covered with their SharePoint application.
What Is SharePoint?
SharePoint is the Microsoft software your accounting company needs. With a full range of features, SharePoint is a creative, customizable form of communication that will mainstream your business interactions. This secure program allows users to access, organize, and share information from any device. It can even be used on the go through mobile devices using the SharePoint app. The intelligent intranet—a private network to share information—also helps keep data sharing secure from any location.
SharePoint has many features and benefits for any company, but there are three reasons why your accounting or bookkeeping business will benefit from a data security plan.
Reason One: Protect Sensitive Client Data
Every day, accounting and bookkeeping firms deal with high volumes of sensitive data. When dealing with client finances, personal details, account information, and government files, ensuring this data is protected is a top priority. SharePoint creates a secure network for your company to help keep your client data safe.
SharePoint's advanced security measures help prevent data loss, but there are circumstances where data loss can still happen, such as employee errors or hardware malfunctions. In the event of accidental data loss, SharePoint has systems to keep your contacts, events, tasks, and data files backed up. Typically, deleting information only sends it to the "Recycling Bin." If you have yet to empty the bin manually, and it's been less than 30 days, your items should still be there waiting to be restored.
If it has been emptied or past 30 days, Microsoft has a secondary Recycling Bin where a site collection administrator can access and recover the data.
Reason Two: Share Data Safely
It is crucial to protect data from hackers. With the amount of private information an accounting or bookkeeping firm holds, using a secure cloud server to store information is a must. SharePoint's secure intranet enables safe work systems in the office and at home.
Turning accounting digital can be a nerve-racking experience for anyone. Many clients may not feel comfortable sharing private information over the web. With SharePoint, clients can feel reassured knowing their information is taken care of and secure.
By default, all Microsoft 365 products are compliant with the latest security and privacy regulations. Multifactor authentication is just one of the steps to help protect your client and company data. Your files will stay safe through encryption, whether stored on a phone or computer or sent through email.
Reason Three: Store Secure Backups of Information
Automatic backup processes allow you to use your time and energy more efficiently and effectively. SharePoint and Microsoft 365 have automated processes, so you don't need to worry about scheduling backups. All data automatically has protection from phishing and malware. Additionally, there are further safeguards against viruses and pre-made spam filtration, so your information remains safe and secure.