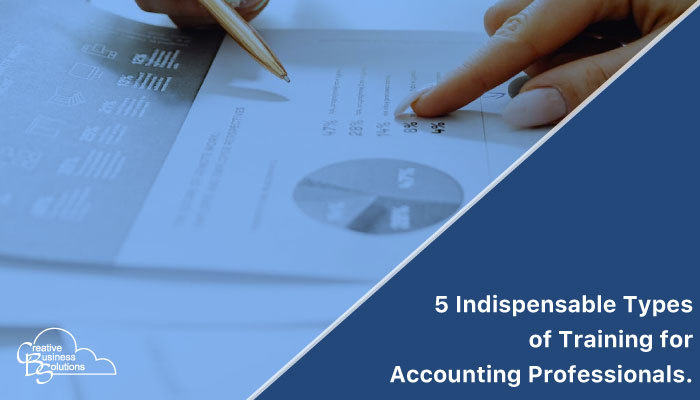 Learning should be a lifelong journey for anyone who wants to improve themselves, personally and/or professionally. Whether you're an accounting professional, business owner, or both, ongoing training is a fundamental aspect of your career. The opportunity to train your accounting skills is always there–you just need to take advantage of it.
No matter how much of an expert you are, you can always boost your accounting and entrepreneurial skills. The sky is the limit! So, how can you continue honing your skills as a professional in your field and as an entrepreneur? In this blog, we'll go over five valuable types of training for accounting professionals.
QuickBooks Online Training
QuickBooks Online is essential software for many accounting professionals. With its straightforward inventory management, easily-accessible financial statements, and comprehensive integration options. It's no wonder QuickBooks is one of the biggest names in the accounting and finance industries.
As an accounting professional, you'll need to maximize your use of QuickBooks Online to reap the benefits for your business. To make the most of QuickBooks, you'll need to do some training first and then get certified. Finding and enrolling in a QuickBooks training course can elevate your accounting firm to the next level.
Microsoft 365 Business Training
Microsoft 365 Business is the ultimate tool for accounting businesses. Microsoft 365's high-quality cloud-based software helps you pursue your passion and run a successful business.
You'll benefit from some training to get the most out of Microsoft 365 Business. Getting trained by experts will help you maximize productivity and efficiency. That's why CBS Training has devised a comprehensive 12-week hands-on training course for accounting professionals. With our intensive training course, you'll learn to use Microsoft 365 for Business to benefit, automate, and boost your business.
Improve Your Accounting Skills
We live in a world where you constantly have helpful resources at your fingertips. This type of access applies to every aspect of your life–including your career as an accounting professional. That means that there are plenty of ways for you to improve your accounting skills.
Spend some time researching additional certificates and training for accounting that you can perform. If you haven't already, one of the first and most important steps is to become a Certified Public Accountant (CPA) or Certified Professional Bookkeeper (CPB). It doesn't stop there–you can always look for more ways to add to your skill set through ongoing professional development.
Register for Webinars and Conferences
Certificates and training courses aren't the only way to improve your skills as an accounting professional. If you're searching for additional education in a specialized area, try attending webinars and conferences related to those areas.
Webinars and conferences are a great way to hone your skills if you don't have the time to commit to a training course or certificate. You'll get the opportunity to listen to experts and other accounting professionals, but you won't need to put in as much time as you would with a course.
Join a Professional Association
Joining a professional association is ideal for accounting professionals to sharpen their skills. Not only will a designation (CPA or CPB) help you further succeed in your career, but you'll also get the opportunity to learn from other colleagues and mentors.
There are several Canadian and international associations that you may want to consider joining. Do some research to find out which association would be the most beneficial for you!