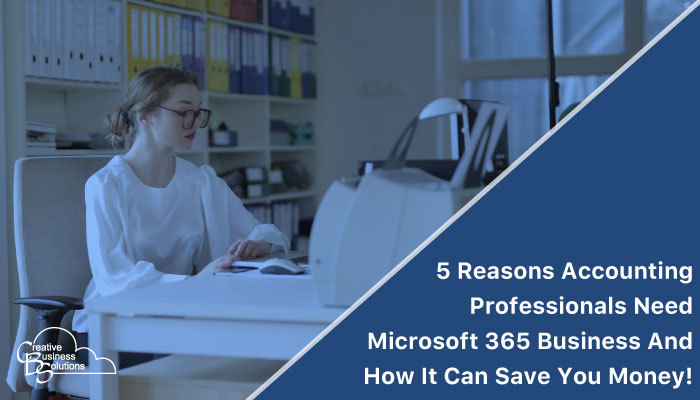 Your firm has many files, data, and financial records to manage. Keeping track of these moving pieces for your clients is no easy task. The good news is that with a bit of extra training, you can learn how to master Microsoft 365 Business. The purpose of Microsoft 365 Business is to help your business run smoothly and efficiently. With Microsoft 365 Business, you can organize your data, files, and much more online. Let's discuss five helpful ways Microsoft Business saves you money and why your financial firm may want to consider investing in it.
1.

Enhancing Communication
Clear communication can help relay information efficiently and increase productivity. With less miscommunication, employees can complete tasks more quickly and better. This efficient use of time allows your teams to spend more time on other important projects.
Microsoft 365 Business allows for seamless communication between different departments and locations of your business. All data and information that you store on the cloud are easily accessible by all employees who have permission to access it. Collaboration between coworkers has never been easier.
Microsoft Business also gives multiple options for styles of communication, using online chat, calling, or video conferencing. All communication preferences are accounted for to encourage collaboration of all kinds.
2.

Set Up Automations to Save Time
Save time and increase productivity with Microsoft 365 Business's Power Automate. This feature enables automated workflows to achieve smooth systems that save time and work with various apps. You'll never fall out of the loop with automated reminders for upcoming or past-due tasks.
With Power Automate, repetitive or scheduled tasks are easy to automate with simple drag-and-drop tools. There is no complex coding in Power Automate, ensuring a simple process to build your own custom automation. For advanced users, Power Automate also works with AI. You can access these advanced features with simple coding through AI Builder.
3.

Increase in Security
Your financial firm handles crucial information daily, including sensitive data, financial statements, and records. It is vital to keep these files secure. You want to ensure the companies you work with feel safe handing over their private data and personal information.
Accounting firms, bookkeepers, and other accounting professionals are some of the biggest targets for cyber hacking, making it crucial to have high levels of cybersecurity. Microsoft 365 Business features many security options to keep your data safe, including identity access management, cyber threat protection, information protection, and more. You can feel safe knowing all your company files have high levels of protection.
4.

Remote Access
What better way to save time and money than having access to all files at any time? Working from home or on the go has never been easier with Microsoft 365 Business. Even without internet access, you can easily download any content from the cloud before your travels so that you can work on projects from anywhere at any time.
The world has learned that working from home can increase work productivity. Many Canadian companies that allow optional work-from-home saw a 20% increase in productivity in recent years. Microsoft 365 Business has valuable features for in-person and remote employees, giving accessibility to all.
5.

Efficiency In and Out of the Office
Microsoft Office focuses on improving task management, product management and document management. Efficiency in and out of the office is crucial for seamless collaboration. That is why all communication in Microsoft happens in real-time. With Microsoft's screen sharing, there is no longer a need to organize a time when everyone can be in the same room. Instead, anyone can join in on a meeting from anywhere. Real-time communication reduces the time needed to travel in and out of the office.