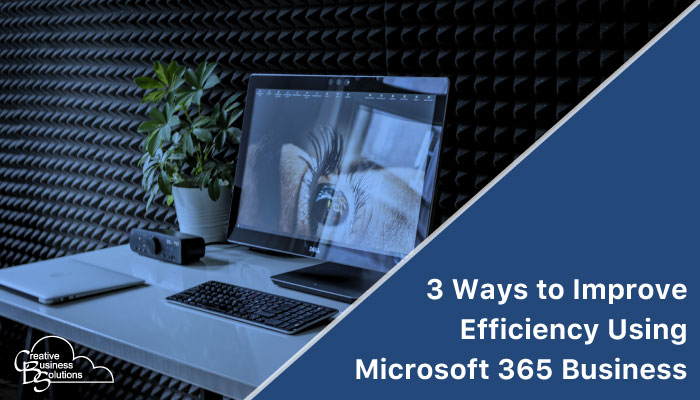 Like many accounting and bookkeeping professionals, Microsoft 365 Business has become a staple in both home and office for workers worldwide. To put it simply, Microsoft gives finance professionals the ability to do their work more efficiently. From the ability to access your data from anywhere, which is a significant advantage for hybrid workplaces, to the integrations that Microsoft cloud computing makes possible, those companies and professionals adopting the Cloud have gained a significant competitive edge. Additionally, Microsoft 365 Business offers a significant upgrade from standard Office 365, helping you achieve efficiencies in multiple areas that span not only overall office and individual workflows but also device management.
Today, the team at CSB will be looking at three ways to improve efficiency in your organizational efforts by using Microsoft 365 Business. Enough with the small talk, let's dive in!
1. Microsoft 365 Business Offers Cloud-Based Services.
Do you ever get frustrated with not being able to complete work from home? In a digital era that relies on employees to be adaptable, Microsoft 365 Business is a unique cloud-based service. This means removing your reliance on local office servers and devices when using Microsoft 365 Business. All your data is conveniently stored securely in the Microsoft cloud and can be accessed from any device and any location with an internet connection. Did we hear you say "tax season from the beach?"
The cloud-based advantage that Microsoft provides not only makes your business more resilient in the case of a natural disaster or other types of local outage but also gives remote workers the same opportunities as office dwellers. Remote workers can access their "virtual office" from any location, at any time and can stay as connected with coworkers as if they're in the next cubicle.
2. Use your Tools… Like Microsoft Planner!
Do you feel like you could use a little bit of organizational help? Microsoft planner is an application included in Microsoft 365 Business, and it works wonders! With Microsoft Planner, you and your team can collaborate to create plans, assign tasks, chat about tasks, and see charts of your team's progress. You can also use Planner from within Microsoft Teams and Microsoft SharePoint. It is an excellent resource for helping your team stay organized and on the right track!
3. Have you heard of Microsoft Power Automate?
Okay, Microsoft superstars, have you ever heard about everyone's little secret… Power Automate! Power Automate is a Microsoft 365 Business service that helps you create automated workflows between your favourite apps and services to synchronize files, get notifications, collect data, and more.
Here are a few examples of what you can do with Power Automate.
Automate business processes

Send automatic reminders for past due tasks

Move business data between systems on a schedule

Connect to more than 500 data sources or any publicly available API

You can even automate tasks like computing data in Excel on your local computer.
Just think about the glorious time you and your business have saved once you automate repetitive manual tasks simply by recording mouse clicks, keystrokes, and copying paste steps from your desktop! Power Automate is all about automation, and we love using this application.